Winter Lookbook Featuring Affordable Outfits for Curvy Figures!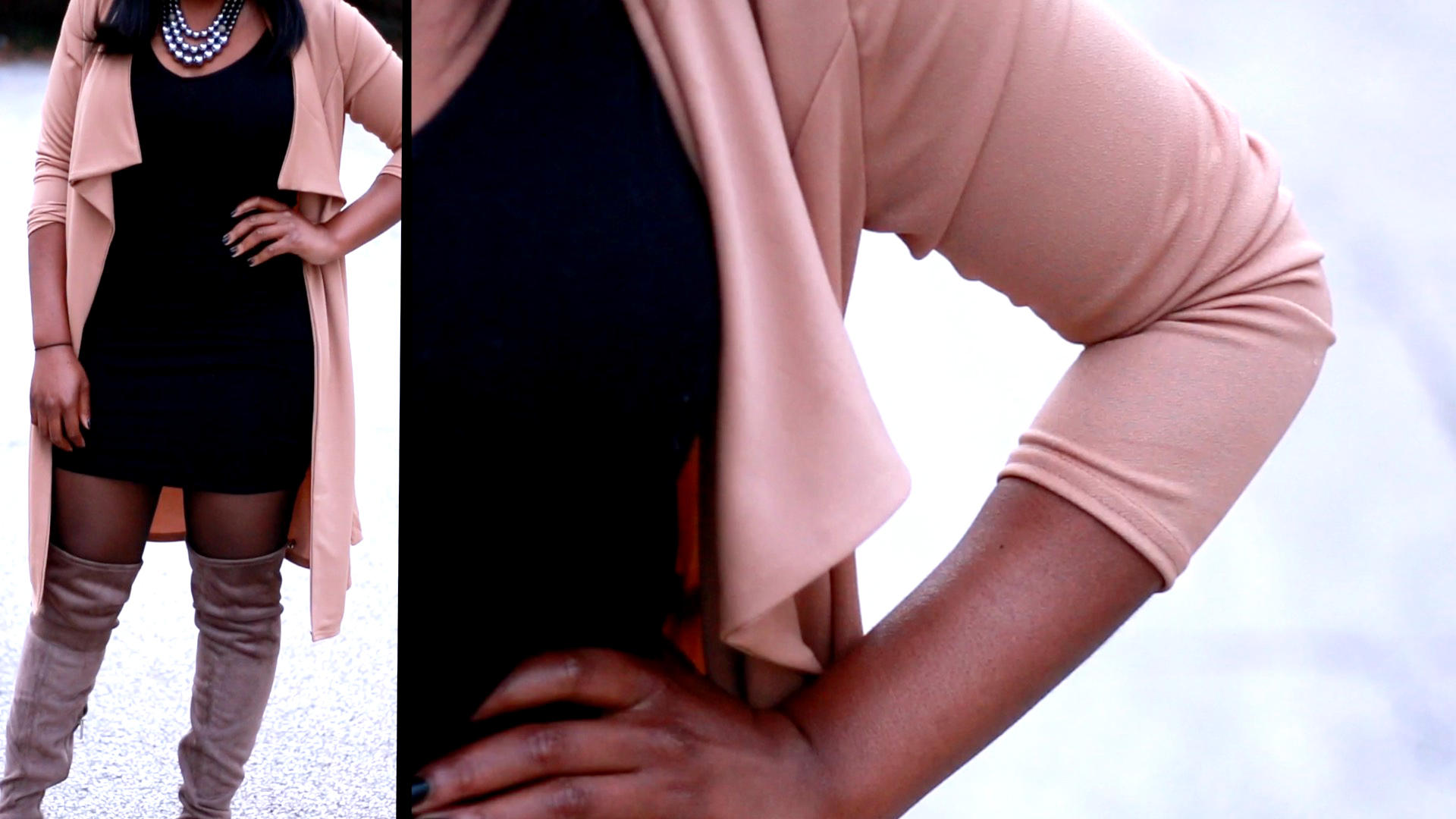 Hey Guys 🙂 I wanted to come on and do my first ever fashion video! This video was a lot of fun, and really made me want to put out more like it. These outfits are comfortable and flattering picks for curvy girls with curvy figures-particularly curvy hips. They are also so affordable, and wearable, that they will make great staples that can be mixed and matched across styles and seasons. I know my friend told me I could add an excellent watch (you can check here) if you were interested to change the looks to suit you! Enjoy! Be sure to watch the video below 🙂
Outfit 1: Monochrome Jade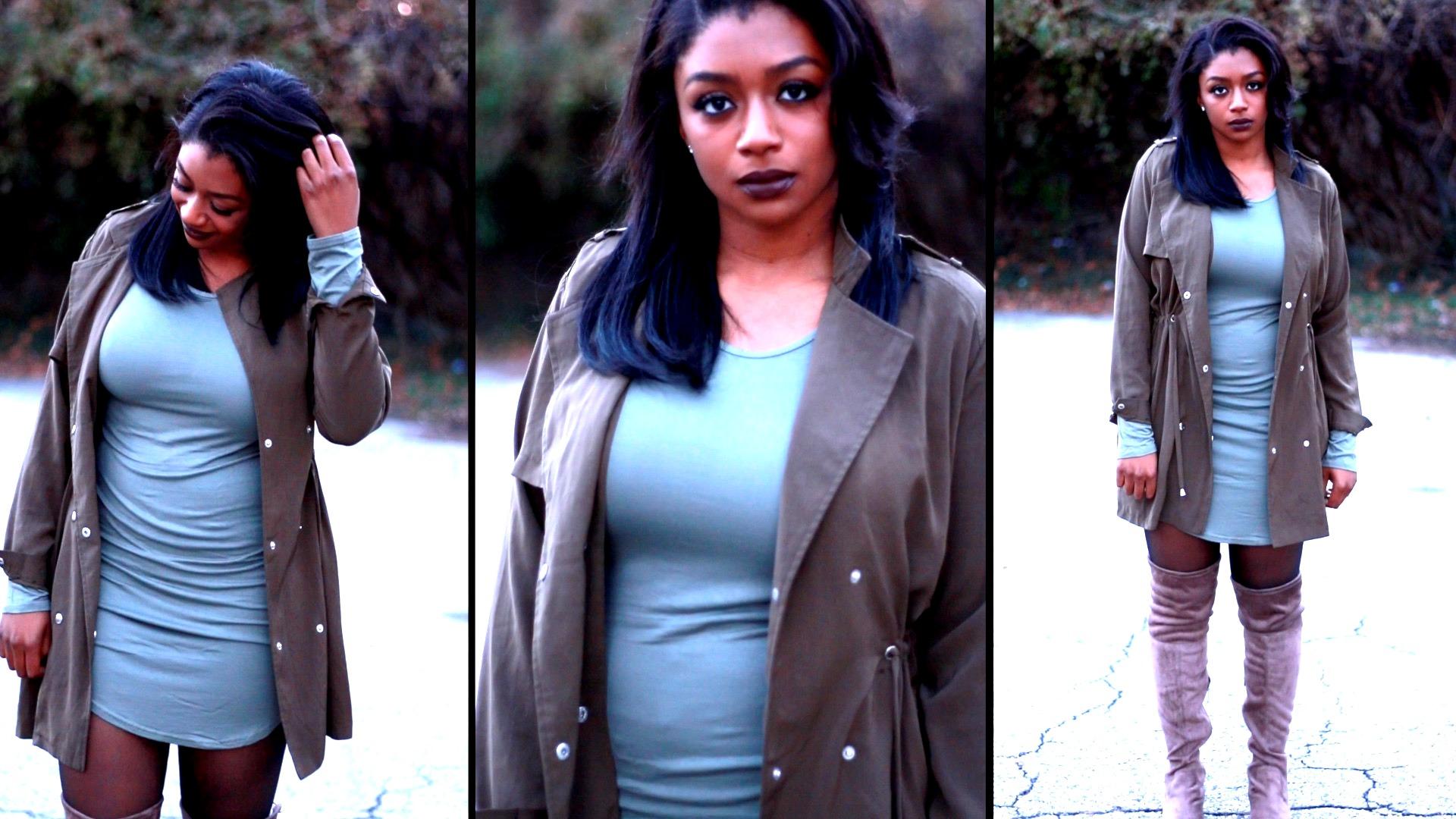 I love pairing fitting silhouettes with loose-fitting pieces on top. This is the first of those looks. I think these looks allow me to flatter my figure in a wearable and comfortable way, and this outfit is no exception. Paired with the thigh high boots, it dresses the look up but it also looks very cute with a heeled bootie. This outfit is not the warmest, as the material of the dress and trench are pretty thin, but it's great for days when you'll be indoors!
Shop the Look

PHOTOS
Larissa Curved Hem Bodycon Dress HERE
Faye Fluid Double Breasted Drawstring Trench sold out HERE | Alternatives: HERE HERE HERE HERE
Sawyar Knee-High Boot HERE
Outfit #2: Red and Black
This outfit is the perfect balance between comfy and cute. I love the flannel, not just because of the comfort it gives this look, but also for how warm it is. It is the perfect choice for when I am bored of my cardigans, but still want something cozy to throw on. I love the red-it adds a pop to the outfit. To make the flannel more feminine, and make the outfit look more pulled together, I like to add a red lip and a pair of thigh high boots. I al I would visit Rank and Style as they have a top 10. This dress is perfect for any occasion, from a football game, to a day out shopping, to a posh meal out. You willv how effortlessly cute you look in this one!
Shop the Look /em>
[show_shopthepotf_widgetOTOS
Oversized Flannel Tunic HERE
Mock Neck Bodycon Dress HERE
Unbelievable Over the Knee Boots HERE
Outfit 3: The BLACK and TAN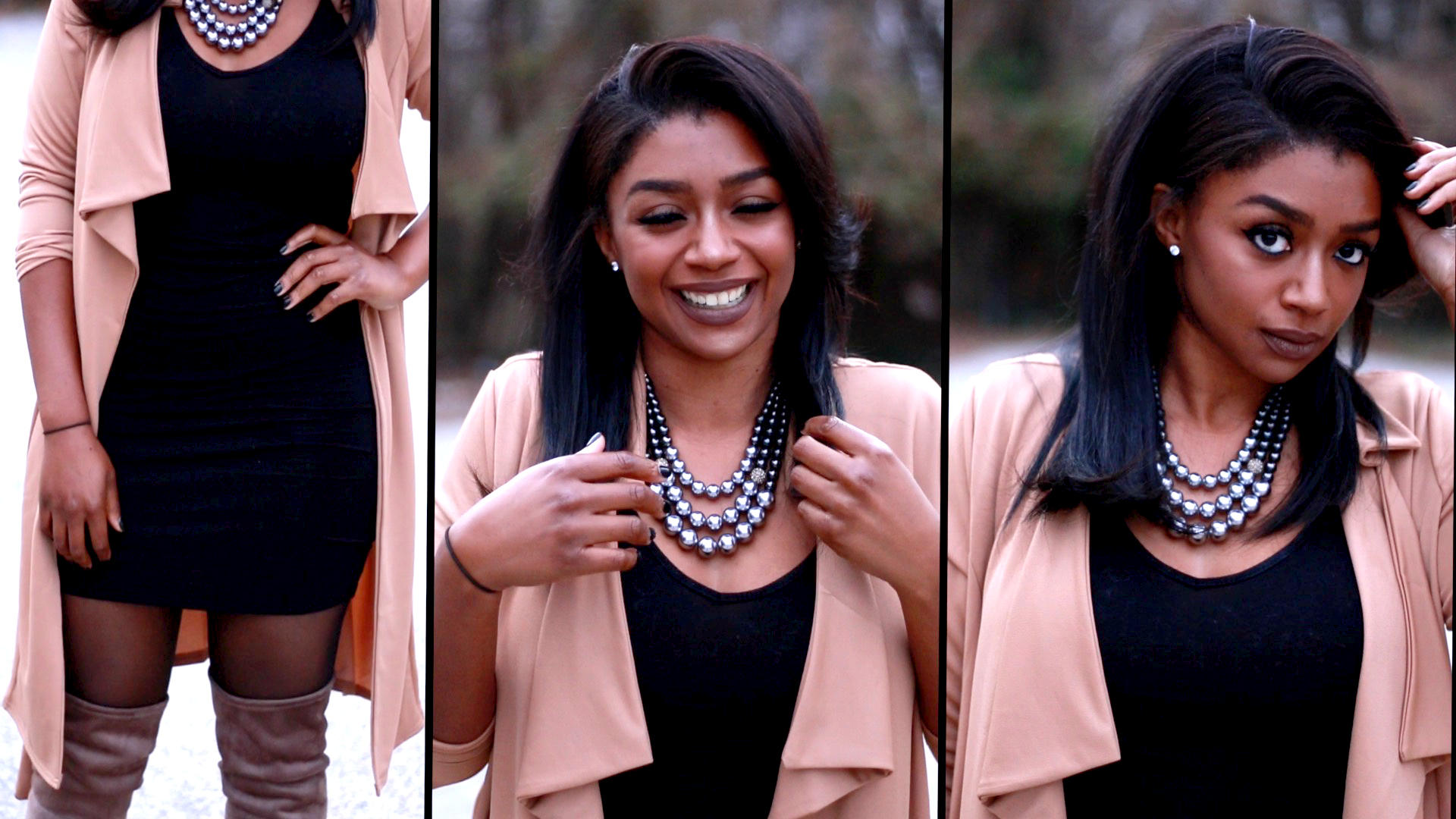 This outfit is one of my favorites. It's very classy, and can be easily dressed up, but it's also super comfortable. That's what I like from any outfit that I wear. I have to feel comfortable, otherwise it just won't do. Plus, with this one in particular, I added a large statement necklace to complete the look, which I love. But I do think I need a few smaller pieces for when I am wearing something more casual. At least this way, I can still wear jewellery but it not be too much. No wonder a friend of mine recommended I checked out sites like https://jacobsthejewellers.com/jewellery/ to see what I can get my hands on when it comes to dainty necklaces. She knows me too well. This outfit works well for a day out-coffee or lunch-and changing the shoes to heeled booties or a tall black boot seamlessly transition this outfit to a nighttime look. The dress is supposed to fall right above the knee, but it can be adjusted for preference. The waterfall detail on the duster really elevates the piece, as the material is admittedly not my favorite.
Shop the Look

PHOTOS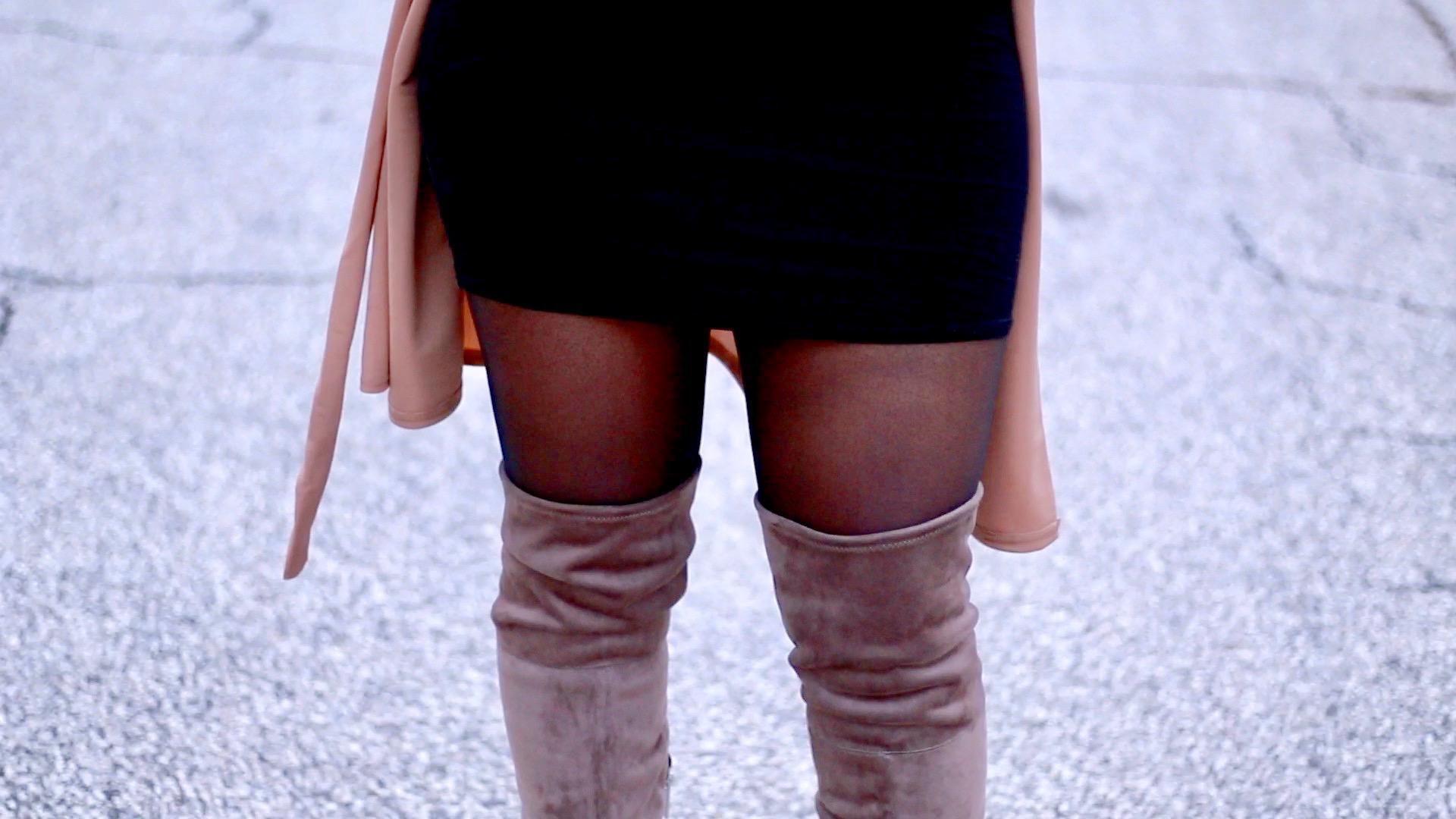 Lacey Waterfall Belted Trench HERE sold out | Alternatives: HERE HERE HERE HERE
Petite Milly V Neck Jersey Midi Dress HERE
Sawyar Over-The-Knee Boot HERE
Outfit #4: The Bomber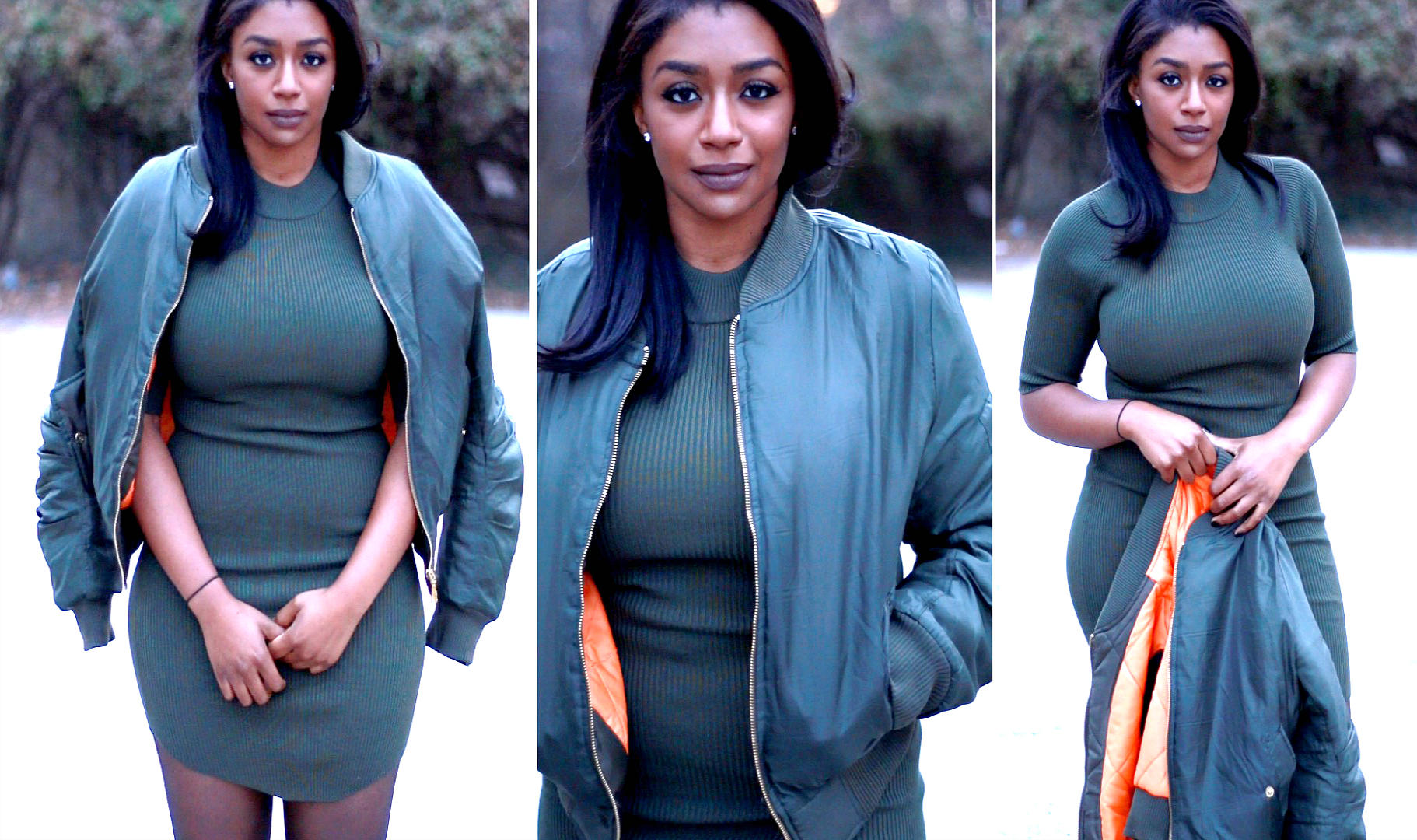 I have to admit that this outfit is a little bit out of my comfort zone, it's a little more edgy and less girly, but I was really happy with it in the end! I love the monochrome aspect, and the bright orange interior on the jacket adds a welcome pop of color. I love the dress! The material is thicker than your average bodycon dress, so it's super warm and very flattering. It will easily conceal tights, which I had on, and I imagine spanx if you want to wear those too! At 40$, the bomber is an absolute steal and it is also super warm.
Shop the Look

PHOTOS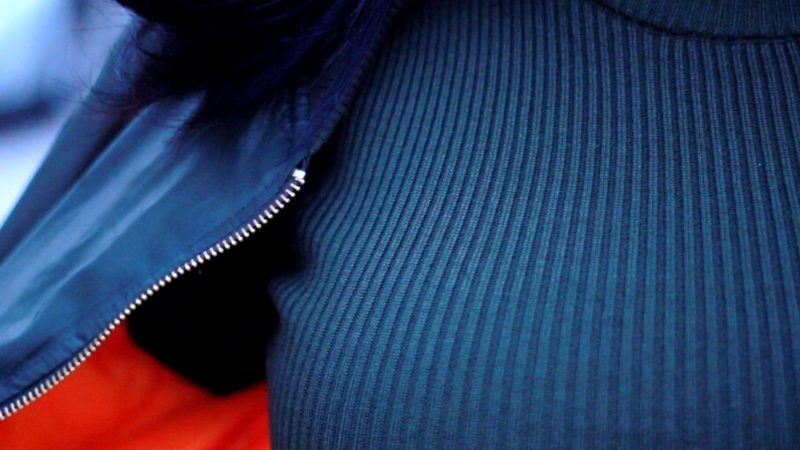 Lillie MA1 Bomber Jacket HERE
Ribbed Mock Neck Bodycon Dress HERE
Booties sold out | Alternative: HERE HERE HERE
Outfit #5: Whiteout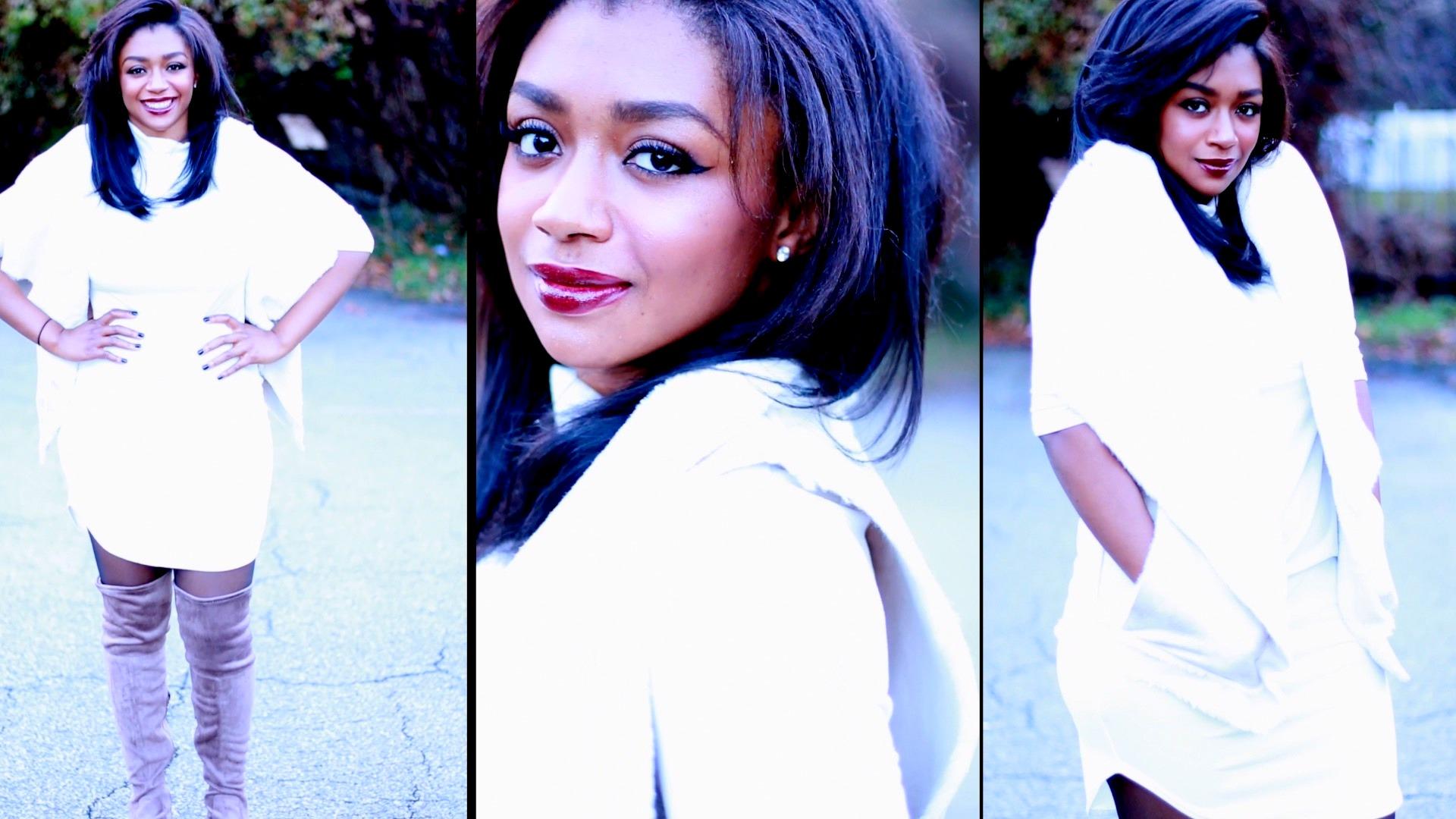 This is one of the few mostly white outfits I love. The lighting makes it hard to see, but the dress is white and the vest is an off white cream suede exterior with a cream fur inside. This outfit is very warm, even without a coat, and very comfortable for all day wear. The taupe boots tie everything together, and is a chic addition to the look! Be sure to pair this with sheer tights if you decide to go black, opaque tights will be too stark a contrast.
Shop the Look

PHOTOS
Brave Soul Borg Gilet sold out HERE | Alternatives: HERE HERE HERE HERE
Tall Brea High Neck Curved Hem Dress HERE
Sawyar Knee-High Boot HERE
Watch the Lookbook HERE