The Best drugstore makeup products for lips, tried and true!
1.Revlon Super Lustrous Lip Gloss
Available in an assortment of colors, this product is a solid gloss. The color payoff is great because it is strong enough to make an impression, but sheer enough to be versatile on a vast variety of skintones (hello hotpink). It is not at all sticky, and I love the shea butter scent. I have three colors, and I will definitely be purchasing more in the future.
2. Wet'n'Wild Megalast Lipstick
These are literally amazing, and for 1.99$ a pop they have me leaving the store feeling guilty. They are smooth and moisturizing, longwearing, and very pigmented. They come in the most beautiful colors, often dupe-worthy to many of MAC's most popular shades, and they just look absolutely beautiful. I own almost ten of them, and I always have two of each of my favorite colors so I never have to go without. In the coming Fall and Winter months, Vamp It Up and Cheery Bomb will be my go-to dramatic lip colors. I highly recommend you try these out.
3. Revlon Lipstick
I own so many of these it's amazing, but my three present favorites are Copperglow Berry, Cocoa Craving, and Iced Amethyst.
The Revlon Lipstick line has countless shades to flatter a wide variety of skintones. They are moisturizing, glide on smoothly, and wear long and well. Even the matte shades wear comfortably all day! If you need to reapply, these also work well when overlapped. Revlon lipsticks have been called MAC dupes, and that's not for no reason. For half the price they are definitely worth picking up if you are a MAC girl.
4. Rimmel Lipstick
Close second to Revlon, and considerably less expensive. Most of my Rimmel lipsticks are from the Kate collection, but I also have some in the Moisture Renew line. My favorite Moisture Renew: Vintage Pink.
It is highly moisturizing, with a great color payoff. It is similar to MAC's Up the Amp, but with more pink lilac undertones and I have never seen it look bad on anybody! My favorites from the Kate line are 10 and 04. They are pigmented and moisturizing with a beautiful natural shine.
5. Revlon Lip Butters
I have yet to meet someone who didn't absolutely love these! They are a universal favorite across a vast number of skintones, and they are a most-have for everyday moisturizing, buildable lip color. See my in-depth review here. Here are the swacthes again.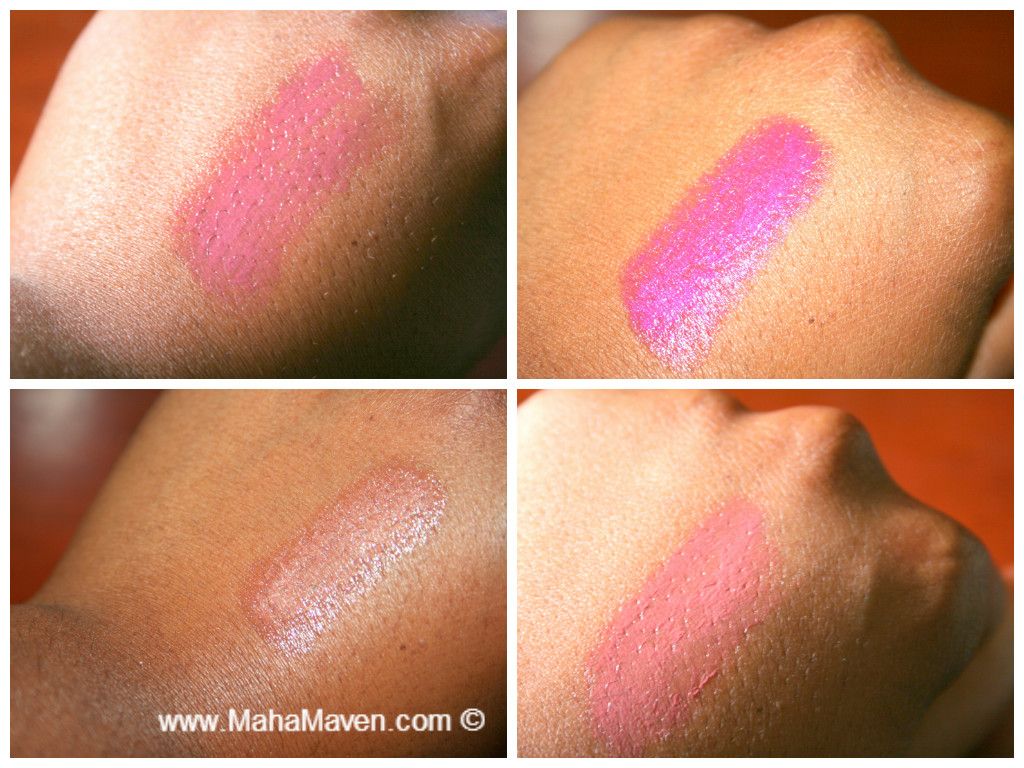 6. L'Oreal Infallible Lipstick
Another popular lipstick, this product's best characteristic is its longevity. It is seriously long wearing, with little transfer. My favorite sets to a matte finish, but maintains a moisturizing feel on the lips all day. This color is seriously beautiful for fall and I absolutely cannot wait to break it out soon!
Check out the best drugstore makeup for eyes!
Feel free to get in touch with me via comments or email with any questions or comments you may have. Thank you so much for stopping by!