Step by Step guide for the vaseline preshampoo treatment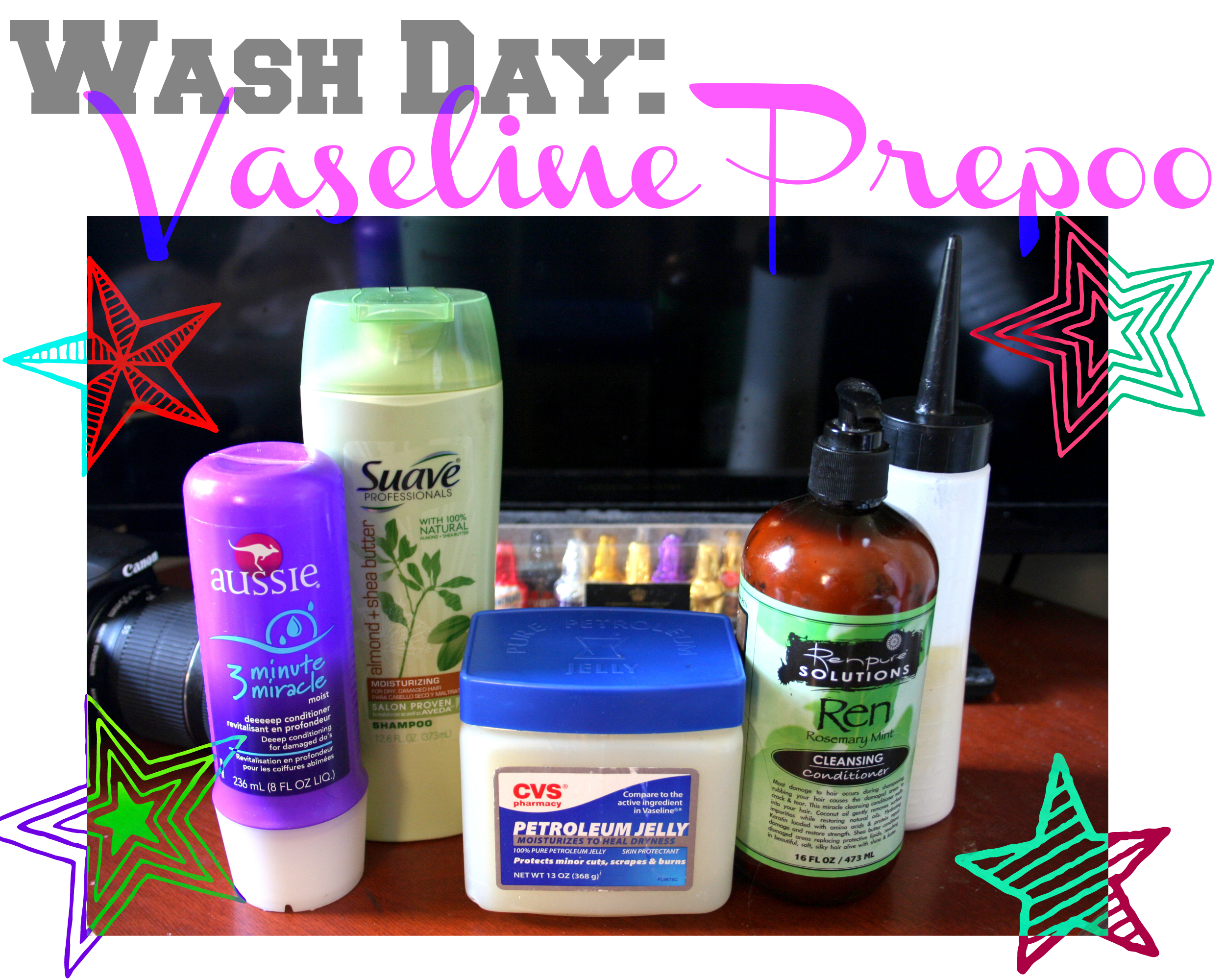 After posting my extensive guide to all the wonderful uses for Vaseline, I got a few requests from people who wanted to know how to do a Vaseline hair treatment as part of a preshampoo regimen. Well here it is guys! In the above photo, I have included everything I use for wash day, and I hope you will try these out! They all contribute something a little different and help maximize the effect of this highly beneficial hair treatment. If you'd rather have someone else carry out the treatment on you, check out Beauty Booker hair treatments and book yourself in for an appointment.
Step 1
I detangle my hair and begin with my scalp. Think of your hair like the crop or harvest, and your scalp as the soil! You can't have great hair without a "fertile" and healthy scalp. This cleansing conditioner is made with Rosemary and peppermint to soothe a dry, itchy scalp and promote growth. Rosemary and peppermint are both said to help with dandruff. I find that applying the cleansing conditioner to my scalp during the preshampoo gives a good headstart, and ensures that my scalp is clean by the end of wash day!
I part my hair into about 8 sections to start and then clip them up separately. Using a squirt bottle, you can get these at Sally's, I apply the Renpure cleansing conditioner to my scalp. I then massage my scalp for about ten minutes to make sure I cover my entire scalp.
Step 2
Now for the fun part! I bust out my Vaseline and get ready to get my hands dirty. Taking each section individually, I apply the Vaseline to my ends very liberally. I smooth the Vaseline into my hair gently, and in a downward motion to smooth the hair cuticle.
Step 3
I then massage my scalp again, but I am careful not to bring the length of my up to my scalp. This is because I do not want the Vaseline to get on my scalp to prevent build up. Massaging the scalp increases blood flow, and thus increases heat and this is very important for the absorption of the products used into my scalp and hair shaft.
Step 4
Pop on Netflix, read a book, get comfortable! This is the part where you sit back and let the treatment do the work for you. Put on a shower cap to trap the heat from your scalp, and wait for 30 minutes.
Step 5
After 30 minutes you can begin to wash. To wash my hair, because I need a clarifying wash to clean the Vaseline out of my hair, I wash with one of the only sulfate shampoos I still use: Suave Almond Butter Shampoo. I apply the shampoo and work it in on my ends before I add water to ensure clean, Vaseline free hair! I then follow the shampoo with my favorite moisturizing conditioner, Aussie's 3 Minute Miracle. It really does just about live up to its name!

That's it for my Vaseline hair treatment!