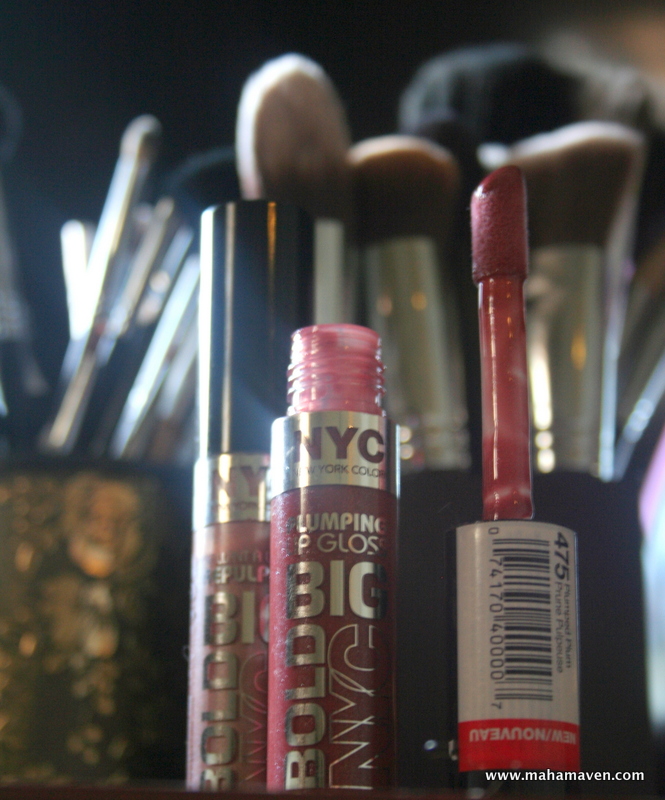 Drugstores are a sort of twilight zone for me.  I can never just go in and get out.  I always have to go through the makeup section, and send at least 30 mins.  I love makeup that much.  Unfortunately, this often results in a lot of unpremeditated spending, and the day I walked away with this lipgloss fatty is no exception.  NYC Plumping Lipgloss is what happens when you take a normal sized lipgloss to the register, and he or she says, "You wanna supersize that?" and you say "Why, yes. Yes I would."  You know…before that became illegal.  This thing is literally jumbo size.  It's way too big to be a lipgloss, but what can I say? I'm into that.  SUPERSIZE ME.
Positives…
I bought this for some lip plump action because, as I've already implied, bigger is sometimes better in my book.  Did it plump? Not really.  But for $3.99, I can't say I was surprised.  It does have a great, cool, tingling thing going on that I love.  It also has a thick creamy lipgloss consistency without being sticky.  The colors I got are also super beautiful: Colossal Cacao and Plumped Plum.  The Colossal Cacao, LOL, makes a beautiful highlight in the center of the top and bottom lips. Plumped Plum is a really pretty my lip-but-deeper-and-therefore-better gloss.  It has a subtle glitter that gives a gorgeous high-shine without looking like the my-first-lipgloss-ever shade I used to sneak on the playground in fifth grade. (I tried to get my lipgloss poppin' way too early).
Not-so-Positives…
It can be a bit messy.  I don't like the smell at all, it's a little balmy.  Too much comes out when you pull the applicator out, and you have to scrape the excess off.  Mess.  It also doesn't plump.  That's pretty significant.  BUT, for $3.99 it was pretty and creamy enough to keep.
Verdict
Not  nightmare. Lol. Not dream either, so I probably won't buy other colors.  I may repurchase Colossal Cacao because it's that pretty, but otherwise I could do without.
What's your favorite lip plumping gloss?
Thank you so much for stopping by!